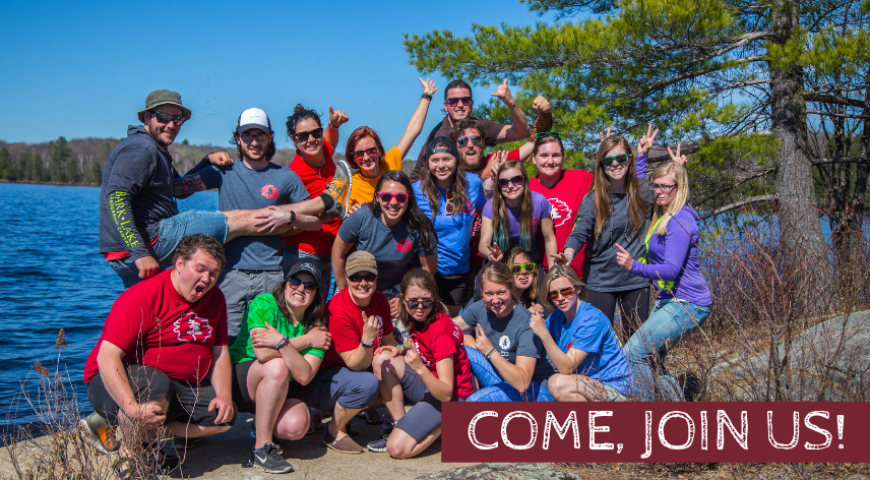 Job Fairs
Bark Lake Leadership and Conference Centre began as the Ontario Camp Leadership Centre at Bark Lake in 1948. Now privately owned by Columbia International College, Bark Lake continues to be the forerunners in Outdoor Education and provide unforgettable experiences.
We are a growing business and an exciting place to come and accelerate your professional growth and development through creative and countless ways. We are currently looking for a number of different positions to join our team.
In search for:
Program Facilitators:
Create memories of a lifetime with guests from across Ontario and around the world. Run programs in the Great Outdoors, with an emphasis on leadership and self-growth.
Lifeguards:
All the fun of being a Program Facilitator, with the added bonus of adventures in and on the water. NLS Pool/Waterfront, Bronze Medallion or Bronze Cross required.
Waterfront Coordinator:
Lead a team of Lifeguards in a variety of water-based activities.
Challenge Course Supervisor:
Adventure 30 feet in the air! Elevate our guests' experiences on the Climbing Tower and High Ropes Courses.
Job Fair Locations, Dates & Times:
Queen's University:
Summer Opportunities Fair: January 22nd | 10:30am-3:30pm
Lakehead University:
Orillia Summer Job & Career Fair: January 31st | 10:00am-2:00pm
Orillia Education Career Fair: February 7th | 9:30am-1:30pm
Fleming College:
Frost (Lindsay) Fair: February 7th | 11:00am-3:00pm
Sutherland (Peterborough) Fair: February 14th | 10:00am-2:00pm
Seneca College:
King Campus Winter Career Fair: February 12th | 10:00am-2:00pm
Trent University:
Career & Experience Expo: February 12th | 11:00am – 3:00pm
For more information:
Please visit our Join Us page, give us a call at 705-447-2447, or send an email to our Program Manager.