Moccasin Workshop

Make a Pair of Winter Moccasins
October 14th and 15th, 2017
$298.00 plus tax
8:30 am – 5:00 pm each day
Join Bark Lake Leadership and Conference Centre & Lure of the North for this exciting and hands-on two day workshop. You will be able to create your very own pair of hand-crafted, traditional deerskin and canvas winter moccasins.
Kielyn and Dave Marrone, a husband and wife team and owners of the Sudbury-based company Lure of the North will lead you in your creation. Together, they have built a life and a career that is driven by their passion for traditional winter travel, crafts and northern culture. Kielyn and Dave have field tested these winter moccasins on countless expeditions, including a 40-day, self-supported snowshoe journey in northern Ontario. They know first hand that moccasins are the warmest, lightest and coziest style of winter footwear you may ever own!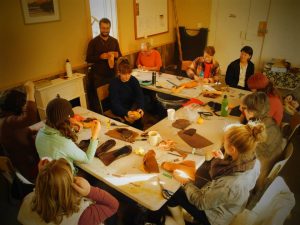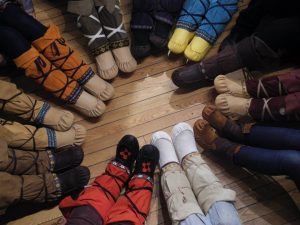 This workshop includes all of the materials required to complete and personalize your own pair of knee-high winter moccasins and lunch on both days. (Accommodations can be provided at an extra cost $50/night).  Come and spend a fun and informative weekend learning from the best in the business, ending with a beautiful pair of highly functional, hand-made moccasins.
This workshop is limited to 12 participants and it always sells out quickly. Do not miss out this workshop is going to be amazing.
To register for this workshop please click on the link below:
*** 2017 Winter Moccasin Workshop ***
For information about Bark Lake Leadership and Conference Centre, please see our website or contact us:
www.barklake.com
Angie
angie@barklake.com
705.447.2447